Description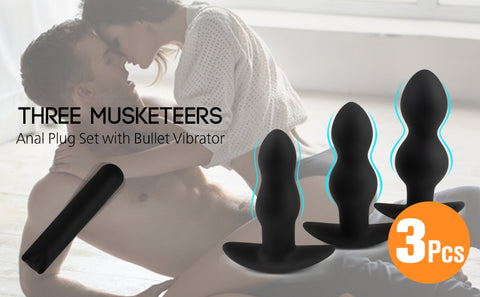 Body-safe Material-All 3 anal plugs are made from 100% silicone, an anal-friendly material that's non-porous, latex & phthalate-free and safe for most people with chemical sensitivities. Smooth silicone feels soft to the touch but firm enough to give you a delicious feeling of fullness. Meanwhile, it is easily cleaned with soap and water, boiling or the dishwasher.


Safe and Comfortable Flared Base-The butt plugs come with a curved base that fits smoothly and comfortably between your cheeks. This allows you to wear the plugs for extended periods of time whether you're doing chores around the house, wandering around public or having sex. Flared T-bar base prevents unwanted travel and stimulates your perineum during wear for double the pleasure heaven.

Curved Shaft for Anal Play-This Trainer butt plugs are specially shaped to maximize your anal pleasure and comfort. Each plug features a curved tip that slips in easily with some water-based lube. The flared shaft is firm to the touch and big enough to fill you up just right. The slim neck bends and flexes to better fit your body.

From Anal Beginner to Expert-The trainer set comes with 3 butt plugs. Start with the small, beginner-friendly plug to wet your whistle for backdoor play. Then move on to the medium plug to challenge your rear with a longer and thicker shaft. And then graduate to the large plug to push your backdoor limits to the max! After conquering the large plug, you can move on to even bigger backdoor toys as well as other forms of anal stimulation like prostate play or anal sex.
Payment & Security
Your payment information is processed securely. We do not store credit card details nor have access to your credit card information.