Description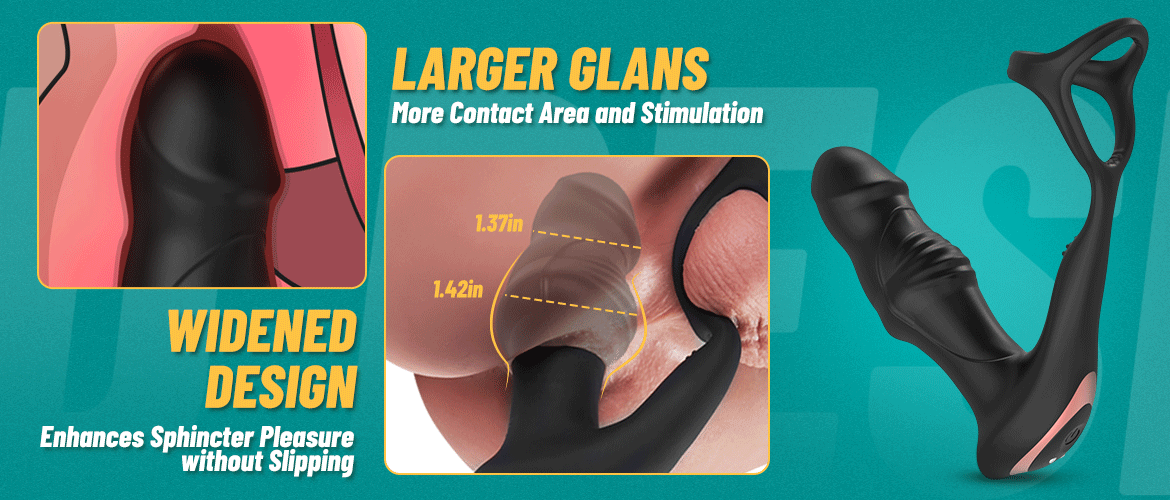 Feature:
1.37" diameter large glans design for enhanced contact and stimulation.
Secure fit and added anal sphincter squeeze with widened mid-section.
Prolonged experience and improved performance with upgraded cock ring.
9-frequency pulsation, squirm, and vibration for an unforgettable climax.
High-quality silicone material and remote control for added fun and safety.
Description:
Embark on an extraordinary pleasure expedition with our mind-blowing Rear Admiral Collection! Brace yourself for a world of sensation that targets your P-spot and anal sphincter with our cutting-edge 9-frequency system. Get ready for an exhilarating ride as our vibrations take you to new realms of ecstasy. Surrender to the numbing thrills and let your senses tingle with pure pleasure.

Take control of your pleasure journey with our upgraded ring design, providing enhanced ejaculation control for extended satisfaction. Crafted from high-quality silicone, our Rear Admiral Collection offers worry-free indulgence. Immerse yourself in velvety smoothness, while our large glans and widened mid-section design ensure increased contact and a secure fit that will leave you craving for more. Say goodbye to worries and hello to complete satisfaction.

Don't deny yourself the pleasure you deserve. With our Rear Admiral Collection, the excitement doesn't end! Customize your pleasure at your fingertips using our intuitive remote control. Explore the depths of pleasure and unleash your desires with just a touch, experiencing tailored pleasure like never before. Join the ranks of satisfied explorers who have discovered the ultimate pleasure experience. Get ready to sail into uncharted territories of ecstasy that will awaken every inch of your being. The journey starts here.
Specification:
Function: Wriggling, Swaying, Vibrating, Remote Control
Frequency: 9 Frequencies
Color: Black
Material: Silicone, ABS
Waterproof: IPX6
Mute: <60 dB
Power Type: Magnetic Charging
Charging Time: 120 mins
Run Time: 60 mins
Size: 6.18*6.18*1.77 in
Weight: 0.64 lbs
Insertable Length: 5.11 in
Insertable Diameter: 1.77 in
Package Included:
Product x1, Charging Cable x1, Remote Controller x1, Manual x1
Payment & Security
Your payment information is processed securely. We do not store credit card details nor have access to your credit card information.