Description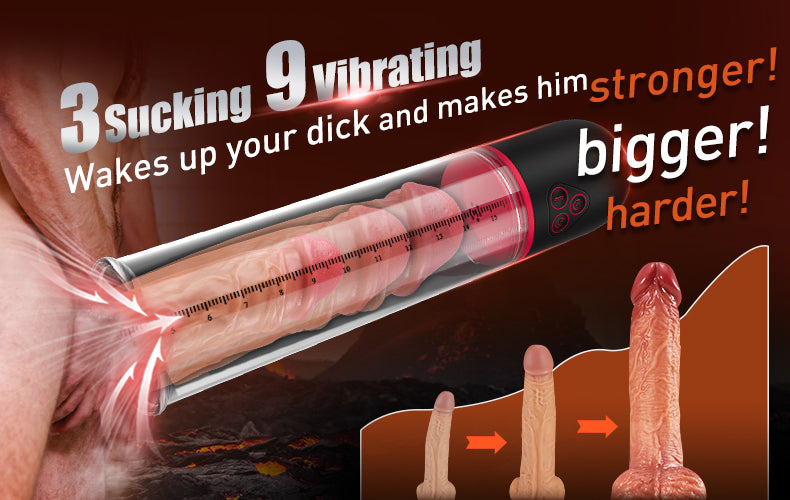 Features:
Sleeve shaped into 6 connected chambers with varying textures, creates an incredible penis-scratching and wrapping sense.
Transparent cylinder with scales on one side, visualize the improvement process of penile erection.
A total of 9-pattern sucking + 9-frequency vibration to choose from.
Dual functional, offers unparalleled sexual enjoyment and surprising physiological promotion.
Made of body-safe silicone, non-toxic, soft, and won't do harm to your skin.
Description:
Carefully designed, there are two buttons in charge of sucking. The threaded button is for 3-frequency sucking, from strong, normal to weak. Click this button and it will follow a certain intensity to continuously suck your dick until it is clicked again to pause. And the button with the arrow symbol is responsible for controlling 9 patterns of cyclic sucking. You are free to find the most exciting mode that pleases you the best without worrying about the discomfort caused by excessive sucking. Moreover, the clear silicone sleeve which is shaped into 6 connected hollow balls will bring you an incredible sense of wrapping and scratching. And you can clearly observe how majestic your penis becomes through the transparent cylinder and the measurements on one side of it throughout the whole process! And it's easy for disassembling to clean, but please note that the black motorized part is not waterproof.
Specifications:
Features: Vibrating, Sucking, Premium Liquid Silicone Material
Function: Vacuum Suction, Vibrating
Color: Transparent
Material: Silicone, ABS
Waterproof: IPX5
Mute: <55 dB
Power Type: USB Charging
Charging Time: 150 mins
Run Time: 60 - 150 mins
Size: 12.4*3.46 in
Weight: 1.6 lbs
Insertable Length : 6.49 in
Package Included:
Product x1, Charging Cable x1, Manual x1
Payment & Security
Your payment information is processed securely. We do not store credit card details nor have access to your credit card information.